Lowongan Quality Control Officer-JO. Colas Rail Iroda Mitra
Quality Control Officer-JO. Colas Rail Iroda Mitra
Jakarta Selatan (Jakarta Raya) |
Ditayangkan: 05-October-2018
|
Tutup pada 04-November-2018
---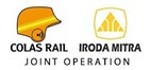 Syarat & Ketentuan lowongan Quality Control Officer-JO. Colas Rail Iroda Mitra
Sebelum Anda melamar lowongan Quality Control Officer-JO. Colas Rail Iroda Mitra terbaru ini atau menekan tombol Lamar di JOBSTREET, Anda harus mengerti dan menjalankan setiap ketentuan dari situs kami (pengelola loker.akademitelkom.ac.id) berikut:
Iklan lowongan kerja ini hasil SHARE GRATIS dari web jobstreet.co.id, kami tidak akan pernah meminta biaya baik secara langsung maupun melalui perusahaan bersangkutan.
Iklan lowongan kerja ini dibuat oleh JO. Colas Rail Iroda Mitra , kami tidak mengubah / menambahkan / memvalidasi setiap lowongan kerja secara langsung.
Segala transaksi yang terjadi saat Anda melamar dalam iklan Quality Control Officer-JO. Colas Rail Iroda Mitra di luar tanggung jawab kami.
Di situs kami ini terdapat link, berupa banner maupun text, ke situs lain. Kami tidak betanggungjawab atas isi dan akibat yang ditimbulkan dari situs-situs tersebut
Colas Rail is a European and International leader in the design, construction and maintenance of rail and guided-transport infrastructure.
We play an active role in developing projects in the following areas: Permanent Way (slab track and ballasted), Electrification (sub-stations, overhead lines), Signalling, Control, Communications, Electrical and Power systems.
This allows for the perfect integration of a complex transport system. Our areas of competence cover all types of rail transport, from tramways to high-speed lines.
History
Colas Rail is the result of the merger of two Colas group companies: Seco Rail and Spie Rail.
Seco Rail is an expert railway track maintenance and renewal, construction of new lines and urban transport. Colas acquired Seco Rail from Desquennes & Giral in October 2000.
In 2007, Colas acquired Spie Rail from the Spie group. Spie Rail has excellent references both in France and on international markets.
Today Colas Rail has presence all over the world, including Malaysia, Vietnam and Singapore.
Our Indonesia Operations
Partnering with our local partner PT Iroda Mitra, we have been awarded as sub contractor on Track Works and Third Rail works for the Jabodebek LRT project. the project has been deemed as one of Indonesia strategic infrastructure project under the presidential decree ref: 98 tahun 2015
we are to deliver state of the art of track instalation and third rail technology which is Colas expertise and has been proven throughout europe and some part of south east asia.
we are looking for professional candidate with excelent track record and who is looking for exposure and challenges in the railroad industry.
Key Responsibilities :
Develop and draft project specific Quality Control Plans.
Conduct field reviews and inspections of ongoing and completed work to verify competency and accuracy with respect to approved construction methods and applications.
Monitor Quality Control measures on multiple job sites simultaneously with proper coordination and documentation.
Development of effective communications and mechanisms for resolving conflicts among the various participants.
Assist in developing, drafting and enforcing project specific Accident Protection Plan and Safety Plan measures on each project, in conjunction with the Safety department.
Oversee quality control procedures on construction projects from start to finish, including coordination and review of third-party inspections and material testing.
Monitor construction activities to ensure that they are moving according to predetermined schedules, while meeting acceptable construction industry standards.
Ensure project documents and deliverables are complete and accurate.
Requirements :
Bachelor degree Civil Engineering from reputable university
Good knowledge on project plan & budgeting .
Good communication skill
Ability to influence & convince others
At least 5 years professional experience in construction
Our people are our strength and everyone working for Colas Rail plays a vital part in the success of the company.
Colas Rail offers a professional working environment and culture.
We provide excellent opportunities for people looking for professional challenges and who can contribute to the growth of the company. We value diversity and promote it in our multi-cultural environment. Our work culture is based on the values – Safety, Quality, Integrity, Teamwork and Respect. We encourage personal initiative and strive to build a working environment that is exciting and rewards achievements of distinct individuals.
This is a great opportunity for you to develop your career while being part of a growing organisation in Asia.
"The diversity of our activities, our corporate cultures, our sites both in France and in international markets open up a host of possibilities and prospects for people joining our Group. Our Human Resources policy is based on contact, listening to, trusting and respecting people. New and existing personnel will be integrated and their individual value enhanced in this environment. They will be able to develop in line with appropriate training courses. These courses and integration through apprenticeships enable young people to discover our various job profiles and become a major resource for future recruitment." - Frederic Van De Wiele, Group HR Director
ALAMAT : JO. Colas Rail Iroda Mitra

Quality Control Officer-JO. Colas Rail Iroda Mitra
274 1031234
Aplikasi Angka Terbilangs 893321 dalam berbagai bahasa
|
Aplikasi Nilai Bitcoin 893321 dalam rupiah
|
Aplikasi SHA-1 (Secure Hash Algorithm 1) dari 893321
|
Aplikasi Text to MD5 untuk nilai 893321
|
Aplikasi Password Rating Hash dalam bentuk 893321
Apakah lowongan Quality Control Officer-JO. Colas Rail Iroda Mitra asli (bukan palsu)?
Untuk mengecek apakah lowongan yang ditawarkan oleh JO. Colas Rail Iroda Mitra adalah jujur (bukan penipuan) berikut beberapa tipsnya:
Pastikan bahwa JO. Colas Rail Iroda Mitra merupakan salah satu perusahaan terpercaya dan kredibel. Silakan memeriksa dari hasil pencarian Google apakah perusahaan itu benar-benar asli (bukan fiktif). Periksa juga tanggapan dari pengguna atau pegawai dari JO. Colas Rail Iroda Mitra .
Berhati-hatilah dengan perusahaan yang hanya menggunakan alamat email publik/gratisan (seperti @gmail atau @yahoo.com) atau SMS (termasuk aplikasi sejenis telegram atau whatsapp ) sebagai media komunikasi. Perusahaan akan lebih meyakinkan jika memiliki telepon kantor sendiri atau alamat email domain web perusahaan.
Jika Anda dimintai uang untuk alasan apapun, sebaiknya Anda tidak menghiraukan lowongan tersebut. Beberapa alasan sering dipakai adalah biaya seragam, biaya training (pelatihan), biaya penggantian materai, dan membayar formulir/surat perjanjian.
Pastikan bahwa lowongan yang Anda incar sesuai dengan judul dari lowongan ini, yaitu Quality Control Officer-JO. Colas Rail Iroda Mitra . Pastikan Anda tidak ditawari bisnis investasi yang mencurigakan atau menjadi member MLM yang tidak jelas.
Industri
Do not Panic. No System is Safe. No Damage given to your Website. Please patch your System. The ACTION is not a crime and sin, it is just to show your website vulnerability and spread our ideological messages !